Propane Home and Business Delivery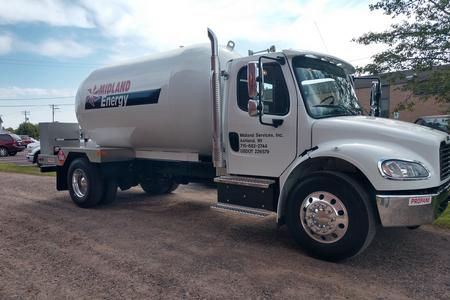 If you are shopping for the right propane supplier to ensure your family's or business' warmth and comfort, choose Midland Energy.
With over 83 years of experience in the energy business, you can trust us to give you quality service, competitive rates, and the best possible energy solutions for heating, cooking, water heating, and other home comfort needs.
At Midland Services Inc, we provide options so you can make a choice that fits your family's needs. We can help you with:
Automatic Fill Delivery or Will-Call Delivery
Price Protection Plans and convenient payment options
Gas Safety Checks
Line, tank, and equipment installations and repairs
24/7 Emergency Service
New Propane Installations
The best thing about propane is that it can be installed easily in any home or business. And when we handle your installation, you can count on a safe, quality job from initial design to your first fill
Electric to Propane Conversion
Pull the plug on your electric appliances and save! Propane is the more cost-effective fuel choice for the big heating jobs such as space heating, water heating, cooking, clothes drying, and hearth inserts.
24/7 Emergency Response
Day or night, our own team of safety-trained certified technicians and drivers are ready to help you through any propane emergency. You can count on them to be prompt, professional, and knowledgeable.
Propane Appliance Gas Connection
Whenever you purchase new propane equipment be sure and give us a call. We will perform a safety inspection after your appliances have been installed by your own service supplier. We will verify the gas connection is safe, ensuring all required safety codes are met. See Wisconsin Propane Safety Act.
Propane Gas Safety Inspection
Every year residential and commercial fires in the Midwest have been blamed to propane gas leaks. Propane Gas safety is of great concern to Midland Services. Propane Companies may "talk about safety", but here are the real facts: Our propane gas delvery and service personal attend certification courses in CETP training. CETP is the safety program offered by the National Propane Gas Association. Our continual goal is to have all personal certified in CETP Training. We offer training for fire departments in our trade area, to assure they have safety training in combating gas situations they may see on the job. Midland Services is the only propane supply company in NW Wisconsin that employees a full time Propane Gas Safety Inspector. We continuously make appointments with our customers for a FREE INSPECTION of their gas system. Many things happen in daily household activites that may affect the integrity of a propane gas line: the addition or changing of appliances, the movement of appliances, routine wear and tear, and the aging of the proapne gas system.If you have not had your propane gas system checked in the last 12 months, please call our office at 888-873-9527 and ask for a propane gas inspection.