Main Office
220 3rd Avenue West
P.O. Box 500
Ashland, WI 54806
Phone: (715) 682-5528
Fax: (715) 682-6165
Toll Free: 1-888-873-9527
After hours Emergency: 715-209-3769
Mon-Fri: 8:00 am – 4:30 pm
Midland Services Main Office is located at 220 3rd Ave West, in Ashland, WI. Our office hours are 8:00 am-4:30 pm. Monday through Friday. We are open to address any questions regarding propane, gasoline or fuel delivery parts and service, to discuss bill pay options, take payments, to discuss our stock retirement programs, or to answer any further questions you may have. We also have a night payment drop box in the front of the office for your convenience. We have Notary services available by appointment at our office. Please call or stop in with any questions.
Sanborn Ave Cenex
411 Sanborn Avenue
Ashland, WI 54806
Phone: (715) 682-2745
Mon – Fri: 5:00 am – 9:00 pm
Sat: 5:00 am – 9:00 pm
Sun: 6:00 am – 8:00 pm
Propane Filling Hours:
Mon-Sat: 9:00 am- 11:00 am
​24 Hour Pay at the Pump
The Sanborn location stocks a range of everyday items such as groceries, toiletries, soft drinks, tobacco products, newspapers, along with high quality Cenex fuels that are available 24 hours a day with pay at the pump. Additional offerings at Sanborn include:
Henny Penny Chicken
Brown Bag Deli
Seating Area – ATM
​Beer
LP Exchange & Filling Station
Large Oil & Lube Selection – Hoses, Nozzles & other fuel accessories
Hurley Cenex
501 US Hwy 51 N
Hurley, WI
Phone: (715) 561-3459
Toll Free: (888) 873-9527
Hurley C-store Summer Hours starting March 29:
Mon thru Fri 5:30 am – 7:30 pm
Sat 7:00 am- 7:30 pm
Sun 7:00 am – 7:00 pm
Propane Filling hours:
Mon – Saturday
9:00 am – 2:00 pm
​​
24 Hour Pay at the Pump
Midland Hurley Welcomes You!Stop in today to check out all we have to offer! From our fresh made breakfast sandwiches served Mon – Sat until 10:00 am. New hot lunch items served Mon – Fri 10 am – 5 pm.
Our cooler is FULL with delicious fresh made cold sandwiches, Jim's Meat Snacks, Country Fresh Meats, Yogurt & Fresh Fruit!
​
Mellen Cenex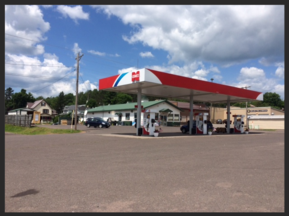 101 Wilderness Drive
Mellen, WI
Phone: (715) 274-2448
Mon- Fri: 5:00 am- 7:00 pm
Sat: 7:00 am- 7:00 pm
Sun: 7:00 am- 7:00 pm
​24 Hour Pay at the Pump
Conveniently located on the corner of Hwy 13 and County Rd GG, the Mellen Cenex recently opened its doors and the community is overwhelmed with all we accommodate to them. From spring, into early summer, we have a beautiful greenhouse. We supply everything from propane cylinder exchange, DNR registrations (hunting and fishing licenses, snowmobile, ATV and boat registration) to Diamond dog food, small farm animal feeds and Nature select bird seed. In the winter months, we supply our local hunters with all of their supplies. This includes corn, apples, beets, carrots, deer licks, attractants as well as hunting licenses. Our other amenities include breakfast sandwiches, pizza, deli sandwiches, soups, tornados, appetizers, hot dogs & brats, hot coffee & cappuccino, a walk-in beer cave, wide selection of liquor and a variety of soda and snacks. Stop in and say "Hi" to our friendly staff. We are very proud of our community and you can see that in everything we do and offer to them.
Brule Cenex
13995 E US Hwy 2
Brule, WI 54820
Phone: (715) 372-8278
Sun – Thurs: 6:00 am- 8:00 pm
Fri & Sat: 6:00 am – 8:00 pm​
24 Hour Pay at the Pump
Our store's friendly staff is here to serve the needs of our local customers, as well as those traveling through this beautiful area. We are conveniently located on US Hwy 2, right on the intersection of Hwy 27, in downtown Brule Wisconsin. Brule is home to the World Famous "River of Presidents", the Brule River. Our location offers gasoline & diesel fuels, a small grocery section, for those small necessities, as well as a fully stocked liquor and beer section. We also offer hot food and cold sandwich choices in our deli section, as well as bakery items for a quick snack. Also available are movie rentals, propane cylinder exchange, hunting & fishing supplies and licenses, ATV & snowmobile trail passes, ice & wood bundles for camping. As always, we have pay at the pump for our late night visitors.
​​

​
Midland Market Place
11585 E Co Rd B
Lake Nebagamon, WI
Phone: (715) 374-3441
Sun, Mon, Tues, Fri & Sat: 7:00 am- 8:00 pm
​Wed & Thur 6:00 am-8:00 pm
​24 Hour Pay at the Pump
Midland Market Place is proud to serve the community as the Lake Nebagamon area's primary Grocery Supplier. This location offers many amenities including:
Fresh Produce and Meats
Cut to order steaks and fresh patty hamburgers
Bakery
Broasted Chicken
Party-sized food orders available for pick up upon request
Full Selection of beer, wine, and liquor
Coffee, soda, candy and snacks
Tobacco products
Propane filling station with 100#/20# cylinder exchange available
Selection of lube and oil products
Movie Rentals
ATM
Lottery
DNR registration
Top Tier Gasoline
Iron River Cenex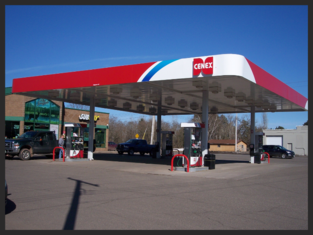 7990 US Hwy 2
Iron River, WI
Phone: (715) 372-8580
C-store Hours:
Sun 7:00 am – 8:00 pm
Mon-Sat: 5:30 am- 8:00 pm
Subway hours:
Sun – Sat: 9:00 am – 8:00 pm
​24 Hour Pay at the Pump
Iron River Cenex is part of the Midland Services family. This store is conveniently located right off the Tri-County Corridor. This store is proud to offer:
ATM
Pay at the Pump
Beer/Liquor/Wine
Subway
Oil/Lubes
Phone cards/Gift cards
Seating area
Kemp's Milk
Sven & Ole's frozen pizza
Souvenirs and Clothing
DNR Registration / Trail passes
Premium Diesel
Top Tier Gasoline
Local goods
​​

​
Washburn Cenex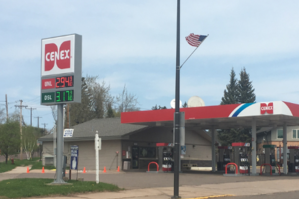 137 W. Bayfield St
Washburn, WI 54891
Phone: (715) 373-5722
Store Hours:
Mon-Fri: 7:00 am – 7:00 pm
Sat: 8:00 am – 7:00 pm
Sun: 9:00 am – 3:00 pm
24 Hour Pay at the Pump – Washburn Cenex, was added to the Midland Services family in April 2018. This store is conveniently located right on Highway 13 in Washburn, WI. This store is proud to offer:
ATM
Pay at the Pump
Propane Exchange & Filling Station
Live Bait & Worms
Coffee, Soda, Candy, Snacks
Hot Deli Foods & Beverages
Tobacco
WI Lottery
Beer
Oil/LubesPhone cards/Gift cards
Tetzner's Milk & Ice Cream
DNR Registration / Trail passes
Premium Diesel & Diesel Products
Top Tier Gasoline
Local goods
EZ Tab Vehicle Registration Kiosk
Bayfield Cenex
407 Rittenhouse Ave
Bayfield, WI 54814
Phone: (715) 913-0058
Store Hours:
Mon-Fri: 6:00am – 6:00pm
Sat: 8:00am-2:00pm
Sun: 8:00am-2:00pm
​24 hour Pay at the Pump
Bayfield Cenex is our newest addition to the Midland family as of December 2021! The store is located right in the heart of Bayfield, at 407 Rittenhouse Ave. Near the beautiful Lake Superior in Northern Wisconsin. This store is proud to offer:
ATM
Pay at the Pump
Beer/Liquor/Wine
Subway
Oil/Lubes
Phone cards/Gift cards
Seating area
Kemp's Milk
Sven & Ole's frozen pizza
Souvenirs and Clothing
DNR Registration / Trail passes
Premium Diesel
Top Tier Gasoline
Local goods
​​

​